About our Playdates...
Who: 
Any family interested in having a bit of music fun this summer with us in the Children's Dept. at MusicFirst NI
What:
1-off stand alone class for you and your child (or children!) including all the music and movement fun of a regular Kindermusik class, but with a special summer time twist.
When: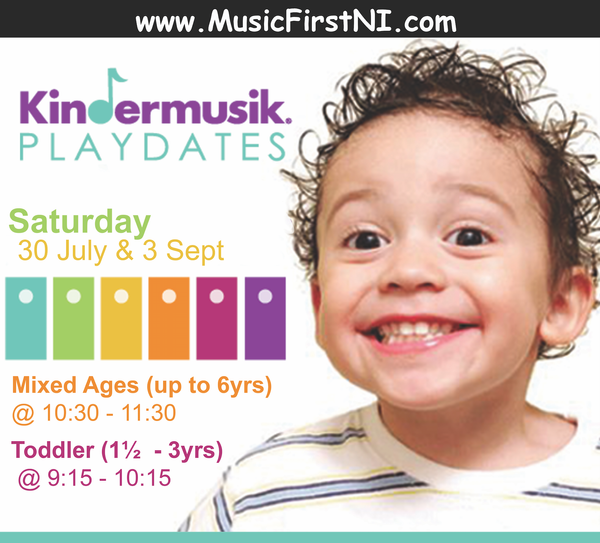 Saturday, 30 July & 3 September, 2011
Classes: 
Toddlers (18 mon - 3 years): 9:15 - 10:15am
Mixed Ages (up to 6 years): 10:30 - 11:30am
Fees:
£10 per Child per Class
and £8.50 per Sibling registered in same class
*Includes access to exclusive material on Kindermusik App!
How:
1) Complete the Registration Form below
2) Continue to "Payment"
    a. Choose your date(s) & time(s)
    b. select number of children attending each session 
       (this should align with the info completed on the "Registration Form")
     c. Add to Cart & complete payment via PayPal
3) Ms. Becca will be in-touch to confirm your place and answer any questions
NOTES
- All classes are subject to a minimum of 5 (max 10) participants.
If the minimum is not met, the class will be cancelled and a full refund given with no less than 48 hours notice before the class was scheduled to run.
- A participant may cancel for a full refund or reschedule (pending availability) up to 1 week before the class is scheduled to run (no later than 12 noon 23 July for classes booked on 30 July and no later than 12 noon 29 August for classes booked on 3 September), no refunds or credits will be granted for cancellations / non-attendance after the aforementioned deadline.
- Full Terms & Conditions (as well as other Important Bits & Pieces)
Playdate Registration Form
Playdate Payment
Saturday, 3 September 2022
Saturday, 3 September 2022