How We Do It...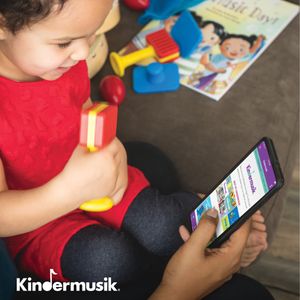 * 2 Units per year, so we divide the academic year into 2 Semesters (September - January  & February - June)
* Each Semester Unit is 16 / 17 weekly classes (still breaking for half terms and holidays in line with schools)
* To support @Home learning, registration includes exclusive access to unit specific music, activities & stories on Kindermusik App for the duration of the unit, plus a bonus "Best of Album" and instrument to keep!
* If, like Ms Becca, you are a big fan of physical books, the unit set of 3 can be added (£10.95) when registering for Level 2 or 3 - the Level 4&5 Young Child (ages 5-7) classes still use full kits with instruments, folder, activities pages, sheet music, carry bag etc.
* SATISFACTION GUARANTEED: If, after the first five consecutive classes, you are unhappy with your experience and wish to discontinue, you can receive a refund of tuition fees (for the classes that have not yet been given) minus a cancellation administration fee of £15 . 
Upcoming Term Classes
Semester 1 Unit: Fiddle-dee-dee
Thursday 10:00 - 10:45am
Saturday 9:00 - 9:45am

20 February - 24 June 2023 (16 Weeks)
- Easter Break: 3 - 15 Apr, 2023
- Make-Up Week: 27 June - 1 July, 2023

Fees: £168.37
- 16 classes &  full App access (£162.40)
- Fiddle Sticks Instrument (if needed - £5.97)
 
Level 4: ...Young Child 1 & 2
Semester 1 (5 - 6 Years) 
September 2023
Semester 2 (5 - 6 Years): 
Saturday 9:45 - 10:45am 
20 February - 24 June 2023 (16 Weeks)  
- Easter Break: 3 - 15 Apr, 2023  
- Make-Up Week: 27 June - 1 July, 2023

Fees: £198.20
- 16 classes, music on app & full @Home Kit (£47)
Level 5: ...Young Child 3 & 4
Semester 3 (6 - 7 Years) 
September 2023

Semester 4 (6 - 7 Years)
Saturday 11:30am  - 12:30pm

20 February - 24 June 2023 (16 Weeks)   
- Easter Break: 3 - 15 Apr, 2023   
- Make-Up Week: 27 June - 1 July, 2023 
Fees: £198.20 
- 16 classes, music on app & full @Home Kit (£47)