Level 3: "Imagine That!" (3 - 5 Years)
Upcoming Unit: See What I Saw!
Saturday @ 10:15am

*Class size limited to 4 -8 children

His blanket becomes a superhero's cape. A cardboard box doubles as her princess castle. Pots and pans become a drum set. And she sings all the time. Sound like someone you know? Every day brings a new discovery as your preschooler slowly opens the doors of individuality and independence.

Using the power of music, Kindermusik's Imagine That! taps into your little child's creative spirit and boundless energy and focuses on developing his learning strengths and self-confidence so he'll be ready for school, prepared for future music lessons…or able to leap tall buildings. Each class will include the introduction to musical concepts (i.e. Staccato, Legato, Forte, Piano, Accelerando, etc.) through pretend play, a variety of music, instrument playing, singing, storytelling, and literacy. Parents are encouraged to attend the last 15 minutes of classes.
Encouraging aural awareness and introducing musical concepts through: 

Pretend Play. Pretend play activities are integrated with music, vocal development, storytelling, listening, movement and literacy aspects of each class. When based on a child's real-life experiences, pretend play helps develop language, sensory, motor and cognitive skills.

Musical Variety and Singing. Activities include a mixture of musical genres and styles and provide a setting for your child to explore his many voices and to use a "singing voice." Singing helps with memory and recall, physical development, creativity, and socialization.

Storytelling and Literacy. Each class is built on the development of a story, so you'll hear preschoolers search for the word to say what they mean and try to keep up with their busy minds, emerging wants, needs, likes, and dislikes.

Parent Involvement. Children aged 3-5 are learning to be self-sufficient in a group setting of peers, while many times still needing the emotional security provided by a parent. He'll experience both in Imagine That! Caregivers participate in the last 15 minutes of class. Plus the At Home Materials ensures the learning continues at home with your child's best teacher—you!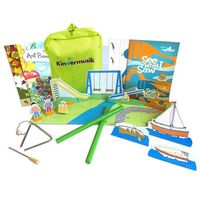 See What I Saw -- In this class, preschoolers use their real experience of playing in the park to create imaginative, storytelling scenarios with music—go on animaginary trip to Grasshopper Park where they sail down the park slide and then recreate the sound of that experience with a loooong vocal glissando.  Each week provides preschoolers one uninterrupted session of imaginative play that's guided in a very specific, sequential way—with a special sharing time with parents in the last 15 minutes of class

Home Materials: Two books—Can You Find Me? and The Ant Picnic Feast, Two Home CDs, See What I Saw Play Set, a Family Activity Book, a slide whistle instrument, a triangle and lumi sticks instruments, plus a backpack. 
 
See What I Saw Monthly Mini Themes:
Lessons 1-4: Adventures at Grasshopper Park: Together we take a trip to Grasshopper Park, stretching our minds and bodies with music and movement and lighting up our imagination to discover all the fun things we can do at the playground. Musical fun with glissandos, slide whistles and wooden instruments get us started on sounds, and playing music together!
Lessons 5-7: Up in the Treehouse: We're at the Grasshopper Park today playing with the wind and the sun, climbing trees and exploring the world all around us. We let pretend play and movement do what they do naturally - enrich all the areas of our child's developing self: physical, social, emotional, and cognitive.
Lessons 8-11: Our Feathered Friends: Our feathered friends lead us on an adventure where we imagine all the ways we can express ourselves with singing and with movement. As we practice and play, we are strengthening language development, social skills and creativity!
Lessons 12-14: Going on a Picnic: A picnic at the park is the perfect way to explore the sounds of words, different instruments and celebrate how creative we are. We put all of our ideas, words, music and (pretend) food in the picnic basket for dramatic play and fun learning!