For a Child's Brain, Body, Heart, & Soul!
Belfast's top children's music classes,


Kindermusik with Becca at MusicFirst NI 
offers the world's leading curricula in child development through music.

The perfect way to give your child a head start!
These stimulating and giggle-approved classes start from18months and progress through Primary Key Stages 1 & 2 which culminate in preparation for formal music tuition upon graduation from the Young Child class by age 7!
Book a place to see what it's all about!
Sunday, 9 January 2022 @ 10am - 3pm
Schedule:
10:00-11:30  Toddler (18 months - 3 years)
-  "Our Time" Demo @ 10:30
11:45 - 1:15 Preschool & P1 (3-5 years)
- "Imagine That!" Demo @ 12:15
1:30 - 3:00  Primary School (P1-P7)
- "Young Child" into "Music FUNdamentals" info session @2 :00
 
 Completely Free, but places must be booked in advance.
Just click HERE
General Registration for Term 2 (January 2022)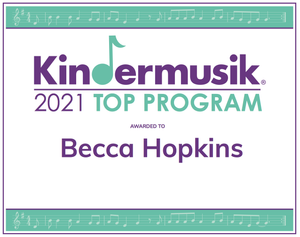 General Registration for Term 2 Classes
is now open and run through 9 January 2022
    - Join the mailing list to keep up-to-date! 
12 week Term begins 10 January 2022
 
In recent years, every parent has heard of scientific studies that prove the enormous benefits afforded to babies and children through music. However, these activities must be appropriate for the child's age and developmental stage. This is where Kindermusik's decades of research and experience sets it apart from other music and movement programmes. Using combined methodology from
Orff
,
Kodaly
, and
Suzuki
, Kindermusik is unique in its holistic approach to a child's musical development. Recognizing that home is the best learning environment, and that there is no better teacher than a parent/caregiver, At Home Materials are an essential part of the Kindermusik experience, as they help to integrate learning and play time throughout the week. During class, Ms Becca will ensure that parents understand the Foundations of Learning provided by each inspiring activity, giving every child and family individual attention and feedback.